After cracking OEM brake rotors every couple of track days and losing valuable track time swapping rotors I decided to give the heavy duty RacingBrake two-piece rotors for the S2000 a try (RacingBrake Part Number: 2144 rotors for OE caliper).
RacingBrake rotors & stock S2000 calipers: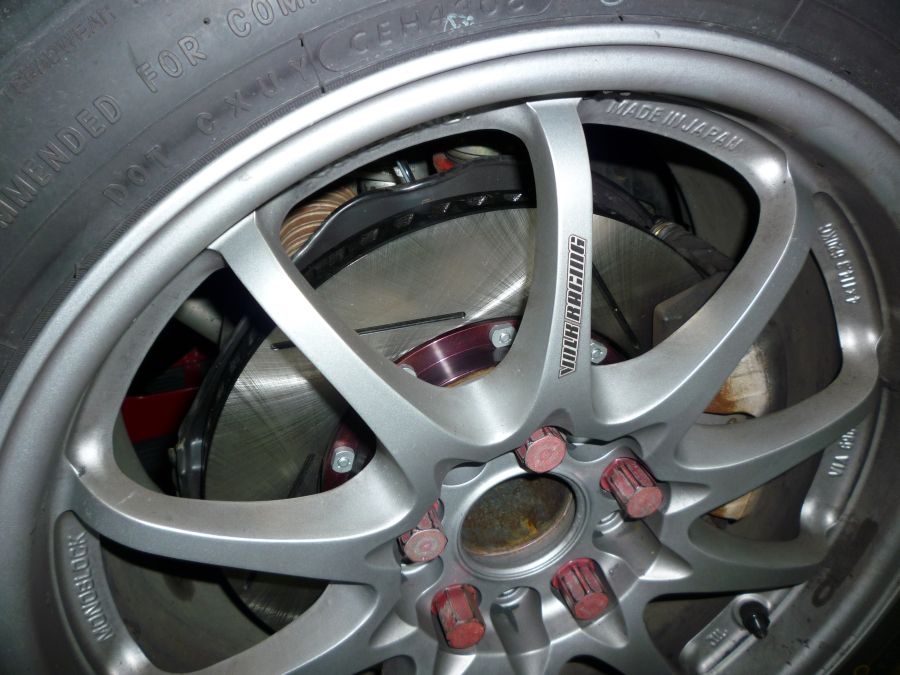 They are more expensive than OEM & generic rotors but I was told I'd get a full season's use out of a set so I took the plunge. I installed them in Nov 08 and ran 23 events with about 27 hours of track time when I finally cracked the left front rotor. A crack propagated to the outside edge in Nov 09. Spider cracks did develop after only a few events and I freaked, but I kept running them until a crack made it all the way to the outside or inside edge of the rotor.
The crack in the rotor gave me a slight vibration under braking so I knew to take a close look at the brake rotors. Typically OEM rotors don't give a warning, they just split wide open and beat the hell out of the expensive track pads.
I have 2 1/2 inch brake cooling ducts from the front bumper to the brake dust shields. I ran one set of Cobalt XR2, one set of Carbotech XP12, and many sets of XP10 brake pads. All the track events were run on r-compound tires.
I replaced the cracked rotor using the RB replacement rotor rings (no hats). I paid $430 for the 2 replacement rotors. Swapping the replacement rotors onto the RB hats was very easy. They are held in place with high quality crimp self-locking hardware. New hardware is included with the replacement rotors.
The vanes are directional so be sure to install the new rotors with the slots running the same direction as the ones you're replacing. Also, check that all the "nuts" are completely seated and torque them to 8 foot-pounds or 96 inch-pounds. The documentation states, "proper torque is required to ensure proper floating function." As with any brake rotor install, clean the new rotor surfaces with brake cleaner before use and be sure to bed your brake pads to the new rotors.
In 2010 I sold my RacingBrake OEM size rotors to a fellow S2000 racer and upgraded to RacingBrake's Accord caliper/NSX rotor Track Duty front big brake kit (RacingBrake Part Number: 2139). This rotor & hat is even beefier than the RB S2000 rotor and allows the larger, more robust Accord caliper to be used.
Track Duty rotors & Accord caliper BBK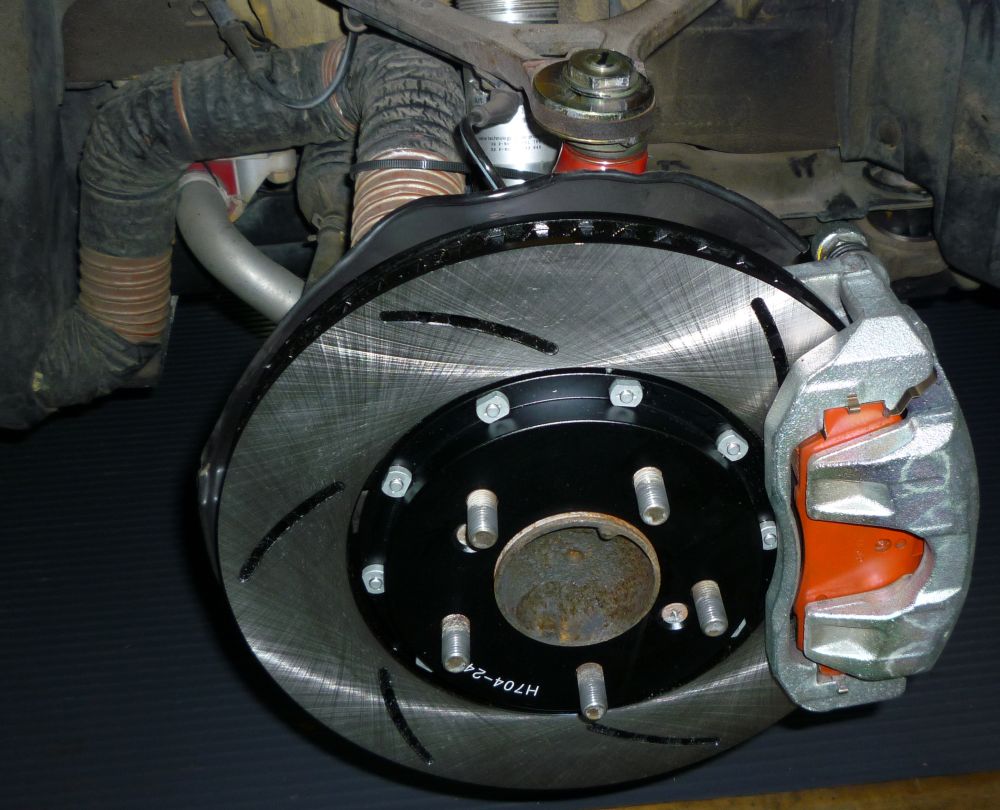 Using this setup my expensive track brake pads are lasting almost twice as long due to the Accord calipers ability to handle higher heat. My OEM S2000 brake calipers would heat discolor after one track day but the Accord calipers have never discolored, even after 2+ years of track use with r-compound tires.
Braking on the track with Nitto NT01 and Hoosier R6 r-compound tires is fantastic. No matter how hard I beat on the brakes I don't get any brake fade. My OE S2000 calipers used to overheat and smear Carbotech XP10 brake pads. The Accord calipers run cooler and XP10s are lasting almost twice as long because they don't overheat. I have also run Carbotech endurance racing and Cobalt XR2 pads with no issues.
I finally need to replace my rotor rings which I've been running since mid-2010 so I'm going with plain (non-slotted) rings this time. I'm also going to try RacingBrake XT970 (dedicated track) pads. I figure no one knows how to pair RacingBrake rotors with brake pads like RacingBrake. I'll post a review after I get a few events under my belt with the XT970 pads.
Overall I'm very happy with this front brake setup. To use this setup order a set of 2006 Accord V6 manual transmission calipers, about $80 each with no core return required (this is cheaper than stock S2000 calipers). Then add a set of the RacingBrake Track Duty (Accord caliper) rotors & hats: RacingBrake Part Number: 2139 This big brake kit will even clear the skinny stock AP1 16 inch wheels.
Rob Robinette
robrobinette.com