Use Ferrari F458 front CCM rotor as an example, our recommendation is to physically measure/check the rotors after track usages to monitor the min weight (6016 grams) and thickness (35.5mm).
When the rotor is new it weighs 6116 grams @36mm, so with a min wt of 6016 g the wearing allowance is 100 grams (3.5 ounces), and 35.5mm whichever comes first.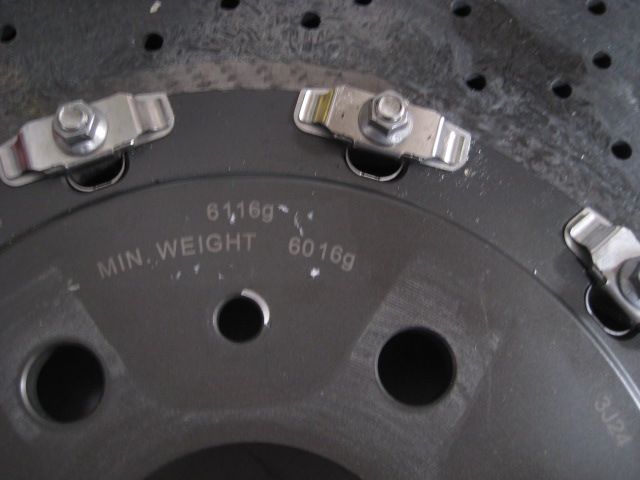 Rotor weight in grams:
Rotor weight in lbs:
This physical inspection is the same practice by most ZR1 track drivers, they all replace their rotors based on when they reach minimum weight.
Another way is to observe the rotor surface as wearing indicator once the outer ceramic coating wears down, what you will see is a more pronounced surface pitting (it almost starts to look like worm wood) from the exposed carbon fibers on the rotor surface oxidizing, and turning into dust which then leaves a void, which is also why as rotors wear you start to see accelerated pad wear because the rotor surface starts becoming more abrasive.
See below picture for a typical rotor surface with worn out sign (under weight).